PORTRAIT INFORMATION
---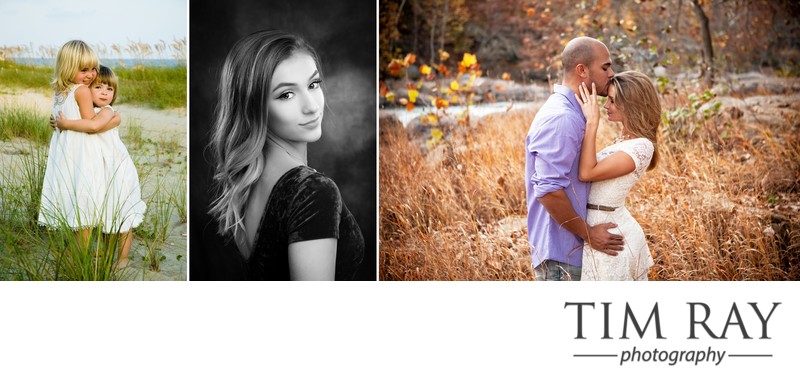 ---
---
Portraits are a full service experience. From planning your session to hanging your custom art on your wall, we will help you every step of the way. You may choose from beautiful mounted prints, framed wall art, canvas wall art, acrylic wall art, folio boxes, and albums. The amount you choose to invest is completely up to you, you only buy what you love! Most portrait clients invest $225 or more on a custom collection of their favorite artwork to display and enjoy in their home.
Do you have specific investment questions? Please call to schedule a consultation at the studio prior to booking a session. We would love to meet you, show you our product offerings, provide you with more detailed pricing information, and share information on our services. After your portrait session we will schedule an viewing and ordering appointment.
---
PHOTO SESSIONS
Each portrait session is an exclusive experience specifically designed to match your style and your individual interests. Tim incorporates exclusive backgrounds along with state of the art lighting techniques using the finest camera equipment and computer technology to create fabulous works of art. We will discuss all prices, products, and options at your complimentary Pre-Portrait Consultation.
PORTRAIT SESSION
Children, Couples, individuals, Glamour, Business
starting at $95
FAMILY SESSION
$25 per person (&pet)


---


PRINT PRODUCTS
Many other products and services are available. Call us for additional information.
WALL PORTRAITS
Starting at $150
GIFT PRINTS
Starting at $40
PACKAGES
Starting at $125
How would you like to receive a complimentary session?
Occasionally we have openings in our schedule and offer a complimentary session to fill up those slots. CLICK HERE TO LEARN MORE AND SIGN UP
---
Tim Ray Photography - Voice/Text 304-363-8395 / Email Us