SENIOR PORTRAIT INFORMATION
---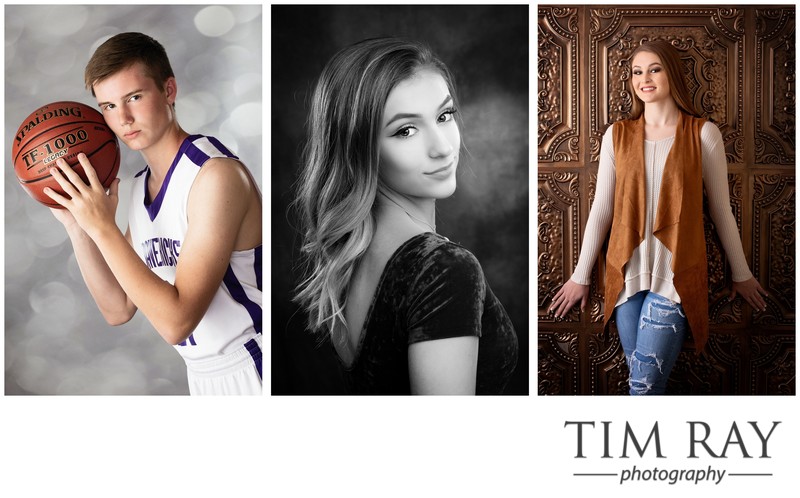 ---
---


PHOTO SESSIONS
Each portrait session is an exclusive experience specifically designed to match your style and your individual interests. Tim incorporates exclusive backgrounds along with state of the art lighting techniques using the finest camera equipment and computer technology to create fabulous works of art. We will discuss all prices, products, and options at your complimentary Pre-Portrait Consultation.
SESSIONS
STUDIO $100
Up to 1 hour
2 outfits
Studio only
OUTDOOR $200
Up to 2 hours
Unlimited outfits
Studio and Outdoors
LOCATION $300
Up to 3 hours
Unlimited outfits
Studio, Outdoors, and On-Location


---


CUSTOM PORTRAIT COLLECTIONS
Tim Ray Photography is a cutting edge portrait and design studio that specializes in creating amazing senior portraits for you to proudly display in your home for many years to come.
Instead of pre-set packages that would limit your options, we prefer to allow you to select the sizes and quantities you want by building your own custom portrait collection. Save while getting exactly what you want. Simply select the sizes, quantities and finish you would like from each of the following categories:
WALL PORTRAITS

11×14 or larger
MULTI-IMAGE WALL ART (optional)
athletes love our custom montages
SMALL DESK PORTRAITS
6 or more – 5×7 & 8×10 – great gifts for family
ALBUMS (optional)
you'll love easily being able to look back at your images years down the road
WALLETS
great for friends, scholarships, applications…
Most clients invest at $400 or more on their finished senior portraits. Many clients love the look of our canvas wraps and choose to create wall groupings with multiple wall portraits. Many select custom designed montages. It is entirely up to you what art pieces you would like to create from your images and how you would like to display them — just don't be surprised when you love the images we have created and you end up wanting more than you originally thought!
NOTICE!!! TIM RAY PHOTOGRAPHY ONLY ACCEPTS
Once those sessions are booked then we have to stop so that we can deliver the best experience to all of our clients.


---
Tim Ray Photography - Voice/Text 304-363-8395 / Email Us